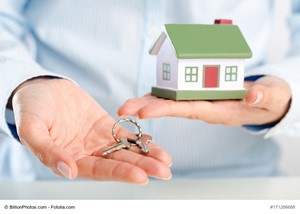 As a homebuyer, it is easy to envision finding the perfect house, submitting an offer on it and acquiring it right away. However, it is important for buyers to consider the worst-case scenarios as well.
A buyer who understands the worst-case scenarios that he or she may encounter during the homebuying journey can plan accordingly. That way, this buyer will be better equipped than others to avoid various homebuying worst-case scenarios altogether.
Now, let's take a look at three common homebuying worst-case scenarios, as well as how buyers can avoid these situations.
1. You find your dream home, but it falls outside your price range.
If you enter the housing market without a mortgage in hand, you may need to act quickly to acquire the necessary financing to purchase your dream house. But once you kick off a search for a mortgage, you may find that the cost to acquire your dream home falls outside your budget.
When it comes to getting home financing, it often helps to be proactive. Fortunately, if you meet with banks and credit unions before you launch a home search, you can determine exactly how much money you can spend on a residence.
Banks and credit unions employ friendly, knowledgeable mortgage professionals. With these mortgage experts at your side, you should have no trouble getting pre-approved for a mortgage at your convenience.
2. You discover a wide range of problems during a home inspection.
A home inspection likely will be completed in the days after a seller accepts your offer on a residence. And in some instances, an inspection may force you to reconsider whether you want to purchase a house.
If you encounter problems during a home inspection, you still have lots of options. You can ask a seller to perform assorted home repairs or reduce your offer. Or, you can walk away from a home sale and restart your home search.
For homebuyers who are worried about any problems that they encounter during a home inspection, it is paramount to look closely at all of the aforementioned options. By doing so, you can make an informed decision about whether to proceed with a home purchase or reenter the housing market.
3. You employ a real estate agent who fails to help you achieve your homebuying goals.
Many real estate agents are available in cities and towns nationwide. But if you fail to conduct an extensive search for the right real estate agent, you may struggle to accomplish your homebuying goals.
When choosing a real estate agent, you should learn about this housing market professional's industry experience. It also helps to meet face-to-face with a real estate agent and discuss your homebuying goals with him or her. This will enable you to determine whether you're comfortable working with a particular real estate agent.
Enjoy a quick, stress-free homebuying experience – consider the aforementioned worst-case homebuying scenarios, and you can minimize the risk of potential pitfalls throughout the homebuying journey.